The Difference is in the Delivery
Experience the revolutionary P.E.T.® technology delivery system backed by science.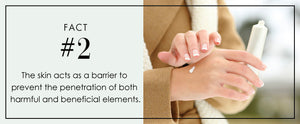 Our Story
The story of SESHA SKIN THERAPY began as a biomedical endeavor over 30 years ago when Harvard and MIT educated scientist, Dr. Dean Hsieh, discovered a way to deliver large density drugs into the body through the skin as an alternative to pills or injections. This technology, Permeation Enhancement Technology (P.E.T.®), was a medical breakthrough and is a key ingredient, providing an enhanced delivery system, for a pharmaceutical product approved by the FDA in 2002*. During the initial testing phases of P.E.T.®, vitamin creams were applied on human skin to test the efficacy of the delivery system, and through that process, our scientists recognized that P.E.T.® could achieve remarkable results in preventing and restoring damage to the skin.
In 1996, from the idea that our skin's aging process can be significantly slowed if active ingredients are allowed to penetrate and feed our regenerative living cells, SESHA SKIN THERAPY's first two products were born – the A.C.E. Cream and A.C.E. Emulsion. Since then, SESHA SKIN THERAPY has extended and expanded it's anti-aging line to include levels of treatment for all types of skin and for all ages.
*Testim ®, Auxilium Pharmaceuticals
Let customers speak for us
Shop by Skin Concern at Sesha Skin Therapy
Whether your skin suffers from acne, dryness, signs of aging, or dehydration, we are here to alleviate all your skin troubles. We offer a range of the best skincare products that are specially formulated to target common skin issues. Browse through our online store to find cleansers, masks, eye creams, vitamin serum for skin, moisturizers, sunscreens, exfoliants and much more. From acne-prone to sensitive skin, we have a collection of bio skincare products just for you.
Discover the Best Skincare Products just for you.
At Sesha Skin Therapy, we believe that your skin is at its healthiest only when it is treated with safe, nourishing ingredients, and that's what we aim to do. We are committed to using only ingredients that benefit the health and appearance of your skin and eliminate all common concerns.
Made using the patented revolutionary Permeation Enhancement Technology (P.E.T.®), our products are formulated to allow the anti-aging ingredients to effectively penetrate the regenerative layer of the epidermis where new cells are created.
One of the most crucial things when shopping for skincare is approaching it individually. Remember when it comes to finding products to treat your acne or irritation, there is no one-size-fits-all solution. There is a different product and a different routine for each concern, and more importantly, what works for someone else may not necessarily work for you. This is why you should be careful when shopping for skincare products to make sure that you get the right ingredients for your skin. Luckily, our detailed product description makes this process a lot less intimidating, allowing you to make a more confident choice.
If you have any questions or would like to know more about our products, feel free to get in touch with us here. Shop now and get the best anti-aging products.
Contact us
Our Corporate Office